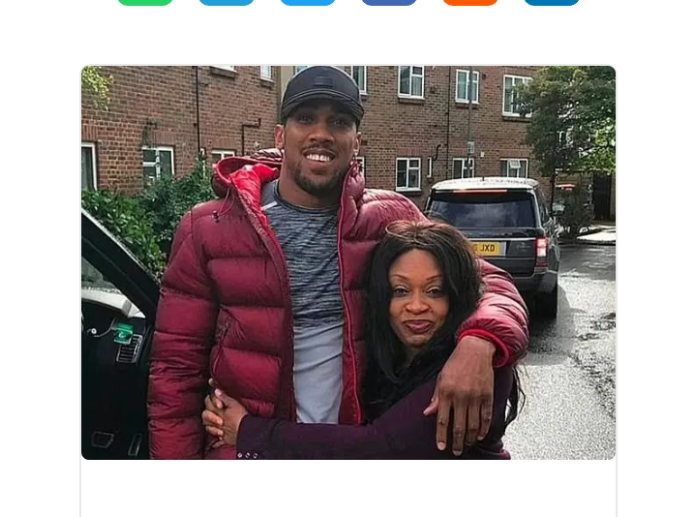 British boxing champion Anthony Joshua has firmly asserted that any future partner would find it difficult to convince him to move out of his mum's apartment.
After amassing an estimated £15 million from his victorious match against Wladimir Klitschko, Joshua returned to his mother's two-bedroom ex-council flat in 2017.
Despite subsequent triumphs, including his recent win over Robert Helenius in August, the focused pugilist is currently on the lookout for his next fight, scheduled for 2024.  
Read Also: Maguire Is An Exceptional Defender –Bassey
Joshua sat down with Louis Theroux to discuss his close relationship with his family and warned future girlfriends they'll need to compete with his mum, Yeta Odusanya. 'I still live with my mum,' the two-time world champion told the BBC Sports.
'In our culture, we grew up in our own family home, we support our parents. 'Why am I going to move out and leave my mum by herself, for some girl? Family is the most important thing. 'When a girl gets with me, she ain't just marrying me, she's marrying my family.'
'Are we going to dissect everything I say and use it as a narrative to create a story?
That's why I keep myself to myself. 'You put all this pressure on yourself to come and be this big star and be perfect.
'I'm telling you, they'll pull you down. The higher you are, the bigger the drop.' Joshua was previously in an on-off relationship with the mother of his child, former school friend Nicole Osbourne, whom he once bought a £500,000 flat not far from his home.
The post Joshua: Why My Future Girlfriends Will Have To Compete With My Mum appeared first on Complete Sports.