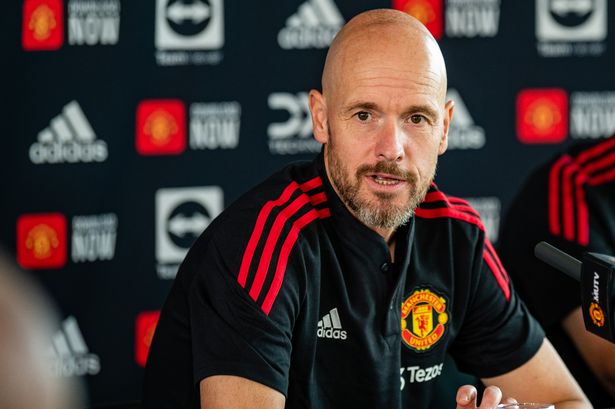 Manchester United coach Erik Ten Hag says his team has to improve and play better in their Premier League match against Luton Town on Saturday, November 11 at Old Trafford.
United have generally had a bad season in comparison to last season as they are eighth in the Premier League with 18 points obtained in 11 Premiership matches.
They were just defeated by lowly FC Coppenhagen 4-3 in the UEFA Champions League on November 8.  
Read Also: Don't Attempt To Sign Sancho –Johnson Warns Chelsea  
Speaking in the pre-match conference, Ten Hag said the team has to step up their efforts.
"It's up to us, up to the team definitely," manutd.com quoted Ten Hag as saying.
"We know in the last minute we made mistakes. We have to address that absolutely, we have to do things better to protect our box. It's definitely not tactical the players know what to do in such moments. But definitely you have to cope with it as you say, as an individual but also as a team.
"I think we can step up, but also the injuries don't help us. Because so often you have to swap, for instance in the back four. You don't get the routines in. Especially in such a moment, it's very important you have the routines.
"It's also on others to step up, Casemiro and Martinez are not there so others have to fill it in. I was very happy actually with the game in Coppenhagen, I think it was our best minutes at 11 v 11. It was a good midfield balance as well, but all over, there was a good balance in the team, I think we played very well, it was just what the way we wanted to see. But we have to build on that."
This game is Manchester United's first ever meeting with Luton Town in the Premier League.
United have won the Premiership on a record 20 occasions. Their last Premier League win was in the 2012/13 season.
They are currently last place in Group A of the 2023/23 Champions League with three points after four games.
The Red Devils have clinched the Champions League trophy thrice (1967/68, 1998/99 and 2007/08).
The post EPL: We Must Step Up –Ten Hag Speaks Ahead Man United Vs Luton Town appeared first on Complete Sports.