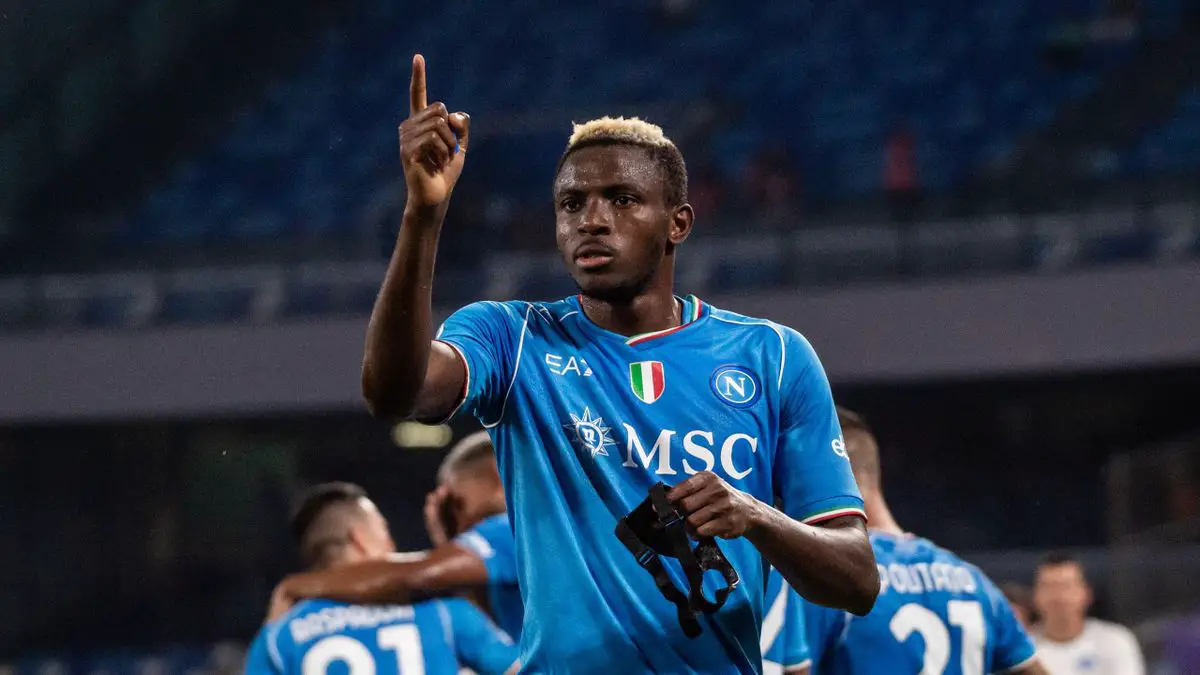 Nigerian players have continued to attract money bags across European football, not because of the clubs they lace their boots for, but for the extraordinary talent they demonstrate as top athletes in the game.
It is no coincidence that according to data released in October 2023, by Transfermarkt, the Super Eagles of Nigeria maintained their position as the most valuable national team in Africa, with a worth of €457.60million.
So in an actual sense, the team is doing well, the same as the players are individually. The three-time African champions will be at the 2023 Africa Cup of Nations (AFCON) in Ivory Coast.
And with the quest to win their fourth continental title, another podium finish and brilliant individual performances by members of the squad will certainly improve the market value of each of the players.
Victor Osimhen - €120m
Has enough been said about Victor Osimhen yet? Definitely not! His 8th-place finish at the 2023 Ballond'Or last Monday was a crowning moment for the Nigerian top-goal banger.
Osimhen is a reminder of talent and hard work. What he helped Napoli achieve last season in the Italian topflight is still reverberating across Europe.
From his record move to Napoli in 2020, which attracted a lot of attention and scrutiny, the 24-year-old would play a key role in the Partenopei winning their first league title in 33 years.
He finished the season as the top scorer with 26 goals to become the first African to win the Golden Boot in the 125-year history of the league.
He also became Africa's top scorer in the league, after overtaking football legend George Weah, who had 46 goals.
Osimhen is not only the most valuable Eagles player, he is also the most valuable player in the Italian topflight with €120million.
He is currently nursing a hamstring injury, which has kept him out of the last few matches for Napoli. Osimhen has netted six goals in eighth domestic matches this campaign.
Victor Boniface - €40m
Though Boniface is three times less in value compared to Osimhen, his rise in market value, has been astronomical. As of June 2023, he was worth only €12million.
Through sheer hard work and focus, he has increased his value. Bayern Leverkusen paid €20million to poach him from Union Saint-Gilloise last summer.
Practically, the 22-year-old's value has skyrocketed. He did so by putting in some incredible performances.
Boniface marketed himself in the Belgian League last season, scoring 17 goals and bagging dozens of assists.
It is not surprising that he is currently the second most valuable Eagles player. His impressive start to life as a Leverkusen player earned him a call-up to the national team.
With his outstanding performance so far for the German side, his value will not remain the same by the end of the season.
He has scored 10 goals and made six assists in 14 appearances in all competitions this term and picked up the Rookie Of The Month Award for August and September 2023 to show his growth.
His current value, according to Transfermarkt, is his career highest as a professional football player.
Taiwo Awoniyi - €30m
Nothing of value comes easy and this is what Taiwo Awoniyi has shown since his move to England. He overcame the disappointment of not being able to play for Liverpool and became the key man for Nottingham Forest.
It did not start until he broke free from Anfield, after years of going on several loans. The 26-year-old's role in ensuring that Forest stayed up in the Premier League last season was phenomenal.
He survived a niggling groin injury that kept him out for over three months and proved that every penny of the €20million the club spent on him was worth it.
The Nigeria international scored six goals in the club's last four league matches to guarantee their safety.
This season as well, he started the campaign well, scoring three goals and registering two assists in eight matches amid struggles for full fitness and recurrent injury.
Awoniyi is the first Forest player in history to score nine goals in seven matches. His ranking as the third most valuable Eagle is well-deserved. His current value in the market is his career high.
Ademola Lookman - €30m
The Atalanta man is tied with Awoniyi on €30million valuation. Ademola Lookman stunned many with his exceptional performance in the Italian Serie A last season.
It was difficult to believe that it was his very first campaign after joining from RB Leipzig on a permanent deal.
Having struggled to make any meaningful impact at Leicester City, no one had expected him to be a hero for Atalanta.
The 26-year-old scored 15 goals, 13 of which were in the league to register his name in arguably the toughest league in Europe.
The achievement drove his value up, as he is currently fourth on the list of most valuable Eagles.
Though he has started the current season rather sluggishly, he has three goals and two assists in 14 matches across all competitions so far.
Lookman has maintained his current value, the highest of his impressive football career since March this year.
Alex Iwobi - €28m
Over the last two years, the former Arsenal academy graduate has ensured that he stays as valuable as he could be in the world of football.
His Everton career would be remembered for how it ended and not how it got underway. Iwobi went from being a regular bench warmer to almost undroppable at Goodison Park before parting ways with the club last summer.
He was on top of his game for two straight seasons, getting the work done on the pitch for the club and his teammates, and playing a key role in the club's safety last season.
The 27-year-old was named Everton player of the season, rewarding his eight assists and two goals during the campaign.
How Frank Lampard and Sean Dyche rated him made everyone realize just how crucial he was to the Toffees.
His career grinds slowly at Fulham since his €20million in the last transfer window, but the midfielder remains Eagles fifth most valuable player.
Iwobi's current market value is a € 4 million drop from his highest career high, which was €32million in 2019.
Samuel Chukwueze - €25m
Comparison is unhealthy, but it also helps to measure. Osimhen's career climb should be some challenge to Samuel Chukwueze, as they were both winners of the U-17 FIFA World Cup in 2015 in Chile.
He lit the Spanish LaLiga last season with 13 goals and 11 assists. Chukwueze's performance that stole the headlines was his brace against Real Madrid at the Santiago Bernabeu, putting two well-taken curly shots past Thibaut Courtois in goal.
The 24-year-old secured a €28million move to Italian giants AC Milan last summer, but he is repeating the struggles of Nigerian players in the black and red colours of the Rossoneri.
With no goal or assist after featuring in nine games in all competitions for the San Siro outfit, and worsened by the hamstring injury he returned to the club with after the last international break, the left-footed winger has a lot of work ahead of him.
He is young, and has so much to prove, but still manages to be the seventh most valuable Eagle. His highest market was in 2019 when he hit €30million.
Terem Moffi - €25m
Young and strong, Terem Moffi demonstrates that he is the ultimate power striker in the entire French Ligue 1.
The former Lorient point man did the business for the club, announcing himself on the scene in his first season three years ago, scoring 14 goals as an unknown player.
The 24-year-old has since then, no matter how insignificant it might appear, maintained a steady rise in his career.
He joined OGC Nice from Lorient in January this year and his star has not dimmed, despite the pressure to justify the €30million paid for his services.
Again, he showed glimpses of his capability against Paris Saint-Germain this season, when he ran riot at the Parc des Princes, scoring a brace and bagging an assist.
Moffi's current market value is the highest in his career. He is the eighth most valuable Eagles player. It is not a bad reward for hard work.
Gift Orban - €20m
Young and emerging, Gift Orban is becoming the show class act that came out of nowhere to steal attention.
Born 21 years ago, Orban might be short, but his stature gives him stamina close to that of Lionel Messi.
He is fast and a handful to defenders, who often lose him on the pitch. He stormed the scene this year after his move from Norway to KAA Gent in the Belgian Professional League.
The 21-year-old scored an unbelievable 20 goals in 22 matches for the club. Likewise, he started this campaign on a good note.
An injury relapse has, however, hampered his progress as he is being monitored by several clubs across Europe.
Orban maintains his career highest valuation of €20million which he first attained in June this year and enough to put him among the most valuable Eagles stars.
Wilfred Ndidi - €18m
Wilfred Ndidi suffered one of the most devastating market value depreciations by a Nigerian player in recent times and that happened last season.
The Leicester City combative midfielder has lost well over 50% of his market worth in two years. In June 2021, the 26-year-old's market value, according to Transfermarkt, was worth €60million.
However, he is worth less than half of that value in 2023. Though injury and fitness problems were blamed for it, that is how footballers' performances are measured.
Perhaps, Leicester getting relegated to the Championship at the end of last season, could also have played a role in his value not getting any improvement.
However, that could change a bit at the end of the 2023/24 season if the Foxes secure promotion back to the topflight and the former Genk star replicates his current club form for Nigeria at the 2023 AFCON in Ivory Coast next year.
But despite all that happened, Ndidi remains among the most valuable Eagles and he holds down the ninth position.
Kelechi Iheanacho - €18m
The 'Seniorman' is the tenth most valuable Super Eagles player according to the latest figures released by Transfermarkt.
Iheanacho has been between consistency and non-performance since he arrived at the King Power Stadium more than six years ago.
Though, he has worked under several managers at the club, nailing down a first-team shirt and getting the goals as a forward player have been his strongest challenge.
Anyway, the 27-year-old's market value has never gone beyond the threshold of €20million which he first attained in June 2021.
His current value is two million short of his career-high market worth. Iheanacho has scored six goals and registered two assists in 17 matches for Leicester this campaign.
The attacker has also continued to be linked with a move away from the Championship club who are favorites to return to the English topflight next year.
Maybe if he had helped the club from being relegated last season with goals, his value could have been higher.
By Obidum Emmanuel